Being able to co-own rare timepieces worth more than 250,000€? Impossible!
Until recently this was true. Yet, the luxury investment market has changed a lot, also driven by young companies like Konvi. Konvi is Europe's first crowdfunding platform that seeks to make passion and luxury assets part of everyone's portfolio. By turning blue-chip collectibles into crowdfunding campaigns, Konvi allows everyone to crowd-own rare high-end luxury watches worth more than 250,000€ on average. Everyone can participate in the crowdfunding in very few simple steps with as little as 250€. As a result, Konvi's customers enjoy not only a YoY appreciation of around 11%* but also the access to very rare luxury watches, of which only very few pieces are produced and that are usually characterized by very long waiting lists.
In general, rare luxury items such as timepieces, e.g. the limited edition of A. Lange & Söhne's Tourbillon Pour le Mérite of only 200 pieces (>300% appreciation between 1994 and 1999), are extremely hard to access. Even experienced watch collectors who enjoy a strong network in the industry often struggle to access these rare timepieces. This is because these are rare watches that "money cannot buy" (Dominic Khoo, 2019) but which scarcity is almost a safe indicator of their value appreciation over time. In addition, luxury assets are uncorrelated to other asset classes like bonds, equity, or commodities such as gold. This unique diversification power makes luxury assets an invaluable addition to a well-diversified portfolio. Yet, the problem that most value investors currently face is that they are not able to access these exclusive high-yielding assets. Konvi is about to solve this.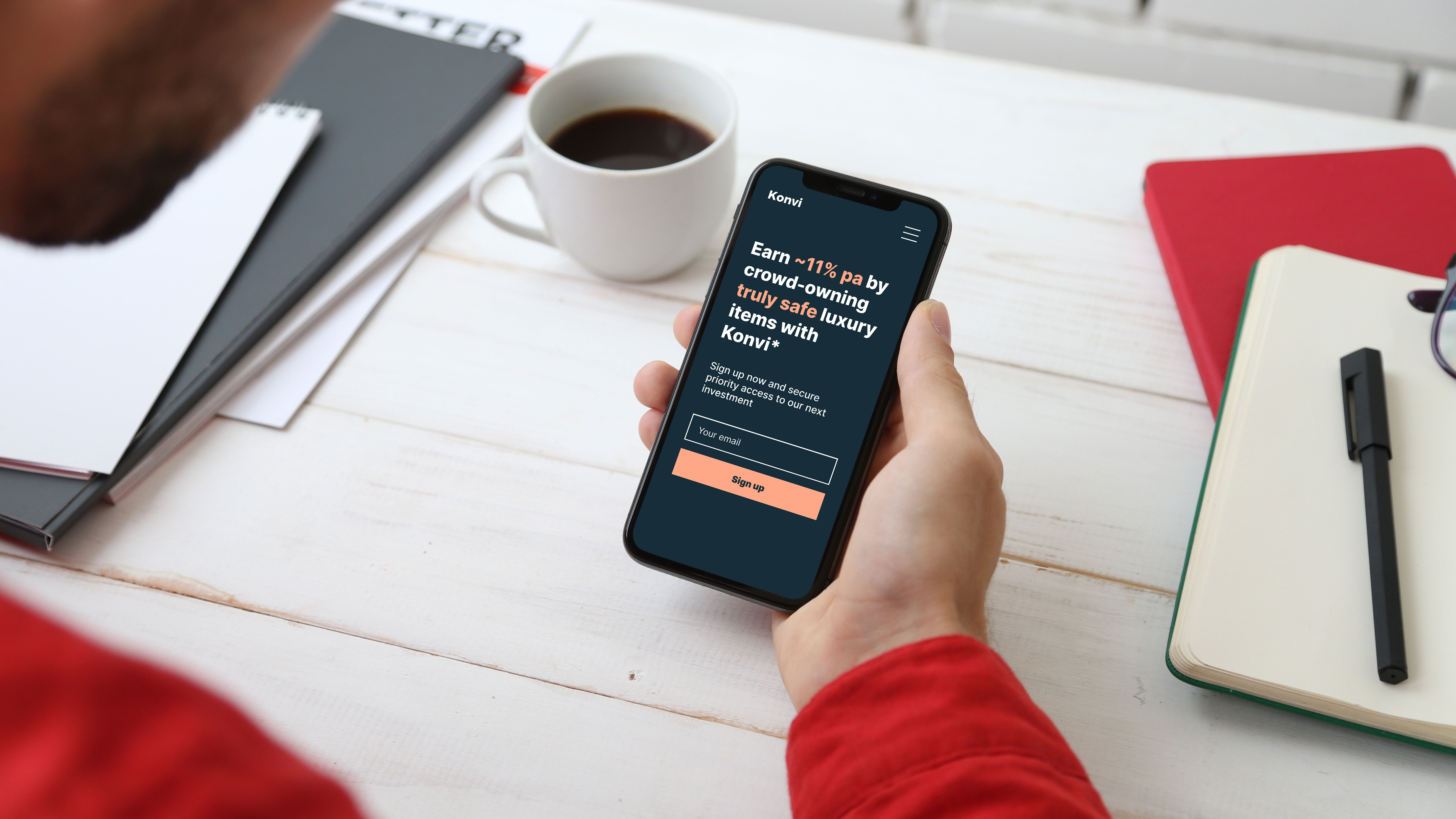 Konvi's mission is to "democratize the access to rare, high-end luxury assets with high returns by enabling everyone to crowd-own a stake in these assets with as little as 250€". To realize this, the startup is collaborating with world-leading partner funds that enjoy a strong track record spanning over multiple decades. These funds specialize in sourcing, selecting, storing and insuring the rare assets below market value to ensure the highest rates of return. While Konvi is starting off with watch investments, the company will also expand to other asset classes such as art, cars, handbags, fine wines and rare whiskeys. In addition, to offer their community the highest liquidity, Konvi is planning to introduce a secondary market in 2021.
Konvi's founders have combined their experience and passion for watch investments with their strong backgrounds in tech, finance and software development to create a unique platform. Konvi enables anyone in the European Union to access rare luxury items and benefit not only from diversifying their portfolios with physical assets, but also from average returns of 11% per annum* that have consistently beaten equity, bonds and other commodities in the past.
Konvi's crowd ownership concept has already captured the interest of many collectors and alternative investors. Due to the impressively high demand and the highly positive feedback from their customers, there is only a limited capacity for new customers to start crowdfunding immediately. Therefore, Konvi created a waiting list for new potential customers to sign up who will then enjoy priority access to the next luxury asset.